Fastener Distributors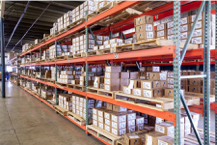 Pearson Fastener has served OEMs and fastener distributors for more than 45 years as a responsive, high-quality supplier of a wide array of cold formed fastening products. With our experience serving OEMs, we offer a unique perspective and can bring that expertise to the distribution market to help support our distribution customers and their end customers.
For specialized distribution needs, Pearson uses an advanced quality and logistics infrastructure. It includes lot traceability, automated barcode labeling and quality certifications such as ISO 9001-2008, Six Sigma Green Belt, federal cage code and others. Our track record shows consistently high quality and responsiveness:
Six Sigma Quality Process – external PPM
98% on-time delivery
24-day average lead time
Quote turn-around 24 to 48 hours
Pearson helps distributors improve their working capital position as we can hold inventory and release product as needed. We can also run lot sizes as small as 1,000 pieces. As a family-owned company, Pearson's flat organization structure provides direct access to our decision makers, and decisions can be made quickly.
Case Studies
---
Less Stress for Distributors with Complex Parts and Rapid Timelines
Problem: A national distributor was launching a custom carriage bolt for a key customer's new product line. The M12 x 70mm specialized carriage bolt had a unique 11mm square shoulder that transitioned into a 20mm collar, then into a round 27 mm head. These numbers of upsets are difficult to achieve, but became even more complex as all of these features had to be filled out extremely well. The vendor chosen to produce the part notified the distributor that it could not form this part successfully as it was crashing tools. Parts were due to launch with the distributor's customer in two weeks.
Solution: The distributor contacted Pearson Fastener. Pearson reviewed, developed a tooling design and manufactured tools to successfully form the part on the same type of header used by the previous vendor. After successfully forming the part, we expedited it through remaining secondary operations, including an outside heat treat and plating process. We shipped this part in time to prevent the distributor from missing the product launch to its key customer. As impressive as this is on its own, Pearson has successfully completed this type of scenario several times for many customers while maintaining minimal disruption to other customer commitments. We consistently achieve this because of our:
Flat organization that allows rapid decision making.
Efficient, rapid process that cuts lead times in engineering and product development.
In-house tooling, experience and knowledge to tool up complex jobs quickly and correctly the first time.
Skilled operators who can handle highly complex jobs.
Vendor partnerships that facilitate quick turnarounds.
With this structure in place, Pearson is a low-risk, strong supplier partner you can rely on. We're ready to help reduce distributors' stress during parts launches with key customers.
---
Specialty Pins: Case Study
Problem: A Japanese distributor needed a North American supplier to produce an M5 stainless steel knurled pin with an automotive coating. The supplier would have to produce this pin while meeting quality standards and passing a quality audit of a Tier 1 Japanese automotive supplier. Other key requirements included producing the parts from a Japanese equivalent stainless steel, and producing a specialized knurl to meet technical requirements for a gasoline flap application for an industry-leading Japanese auto manufacturer.
Solution: Experienced in producing thousands of pieces from stainless steel per month, Pearson Fastener worked with its stainless supplier to develop a stainless steel raw material to meet the Japanese equivalent. Pearson also developed a manufacturing process for a headless pin to ensure the specialized knurl could be produced in a high-volume production environment. Pearson enhanced its quality and manufacturing procedures to pass the in-depth automotive audit.
---
It's not always the equipment but the skill of the team behind it.
Problem: An industry-leading fastener distributor had sourced a M8 x 1.25 x 116 6-lobe pan head shoulder screw to one of its key suppliers. But the supplier could not produce the part and put the distributor in a jam.
Solution: After conducting a technical review and initial development, Pearson Fastener successfully produced the part and met or exceeded all of the customer's expectations – by running the part on the same type of equipment used by the previous supplier. With over 159 combined years of fastener experience, Pearson has superior expertise to solve unique problems.
---
Process Conversion to Cold Forming Saves Cost, Strengthens Parts
Problem: A nationally known fastener distributor was serving a North American industry leader in the railroad signal system market. The supplier needed to reduce cost on a family of screw-machined, medium carbon and stainless steel T head bolts.
Solution: Pearson Fastener was able to convert these parts to be fully cold formed, which saved significant cost while yielding a stronger part than machining. Pearson formed the parts at 80 parts per minute – drastically faster than 4 parts per minute produced in the machining process.