Shoulder Rivets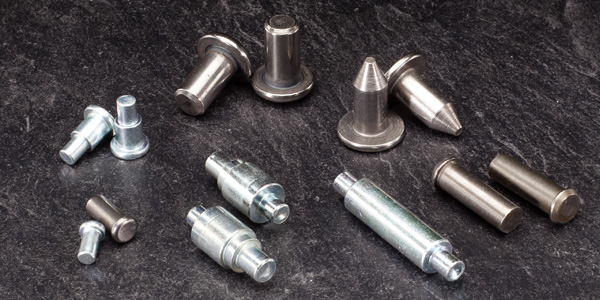 Pearson Fastener produces cold formed rivets for applications including automotive stampings, seat assemblies and hand tools. These shoulder rivets typically range in diameter from M5 to M14 and are manufactured from carbon and alloy materials.
The cold forming process is ideal for producing rivets, given its high speed of production and the stability of the process. Pearson can form up to three different shoulder diameters for cold formed parts.
Pearson also has a strategic supplier base located nearby, allowing us to provide rivets that are heated treated and plated to our customers' requirements.
Case Studies
---
Shoulder Rivets: Case Study
Problem: A custom vintage furniture manufacturer used standard round head rivets as decorative rivets for its desks, tables and media consoles. The company had to machine them to various lengths, adding non-value time and cost to the custom building process. This did not allow for customized head sizes that would add to the desired unique look.
Solution: Pearson Fastener developed and manufactured custom rivets that helped the customer eliminate additional processing of the standard rivet. This also reduced production cost and increased manufacturing output. Pearson's solution allowed customization of the rivets to the proper width and height, giving the furniture the industrial vintage look and character that the customer is famous for worldwide.