Specialty Fasteners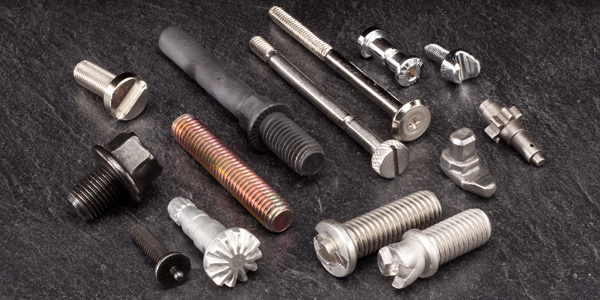 Pearson Fastener uses its decades of experience in the cold forming industry to produce custom, highly engineered specialty fasteners to meet the industry's most unique designs. Our specialty fasteners and components are used in automotive, industrial, lawn and garden, energy, military and healthcare markets.
These specialty parts range from M5 to M14 in diameter and can be produced from carbon and alloy steel, stainless steel and silicon bronze raw materials.
Pearson's in-house tool design and manufacturing plays a critical role in developing specialty fasteners. Each tool component is as unique as the part itself. With tooling resources in-house, Pearson can make recommendations for designing the most cost-effective and manufacturing-robust specialty fasteners, ensuring quality and saving money for our customers.
Our specialty fastener product line lends itself to converting parts from a screw machine, powdered metal or forging process to the cold forming process. Cold forming offers many benefits, such as:
Extremely low scrap rates
High production speeds
Stronger parts (as the material grain lines are formed in the shape of the part rather machined away)
Very stable process
By utilizing our single die and multi-station machines along with our secondary process, Pearson successfully saves customers money by converting parts to the cold forming process. For more in-depth examples, see our Case Studies.