In-House Tooling
To improve quality, lower cost per part and tighten lead times, Pearson engineers and manufactures nearly all of its own tooling in-house. With more than 70 years of combined toolmaking experience, our skilled toolmakers build carbide and steel dies using EDM, lathes, grinders and mills. In-house custom tooling helps ensure that all product designs are achievable using our custom cold-formed process.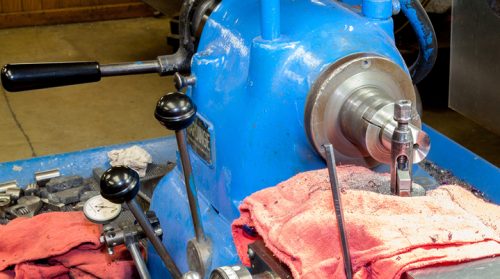 Pearson designs and manufactures tooling in-house, allowing us to make immediate tooling adjustments when required. We also perform our own repairs, minimizing downtime on even the toughest jobs. As a result, turnaround is often reduced to days, not weeks.
Well-equipped Tool Room
Pearson's strategic use of in-house tooling equipment provides the flexibility to build highly accurate precision tooling. For example, our EDMs allow us to cut or burn many different shapes, including squares, hexagons and pentagons, as well as carriage bolt heads and other radiused heads. By using both RAM and wire EDMs in-house, we can make tooling correctly the first time, eliminate waste and control cost. Our tooling equipment includes:
Bridgeport mills
Presses
Hardinge lathes
Wire EDM
2 RAM EDMs
Materials/Stock Items
Pearson purchases all of its "raw material" carbide and steel inserts and casings. All carbide is purchased "rough" – we do a centerless grind on the O.D. so the inserts will be press-fit into casings. We also run them through our wire EDM so we can start with a centered, straight hole when we make our tools.
We stock carbide and steel inserts that can be made at time of order.
We stock casings that hold the tool inserts.
Draw dies made in-house to ensure consistent quality and draw throughout production runs.
We stock common indented hexagon pins.
Many common sizes of 6-lobe and Phillips punches ready to add to new tool kits.
Custom pins made in-house when required.
Benefits of In-house Tooling
By building approximately 95% of our tooling in-house, Pearson can firmly control and fine-tune the process, creating significant advantages for our customers.
Reduce cost per part
With over 1,500 active tool sets, we can repurpose or modify the tooling to keep your tooling costs low.
Decrease lead time – We completed one job, with EDM work in the tooling, in less than 24 hours from time of order to shipment.
Improve part quality
Support small lot runs – no minimum tooling purchase required
Technical support for cold heading team
Enhance continuous improvement activities
Real-time feedback from the heading group to improve tooling as needed
Maintain technical talent and knowledge in-house
Increase production up-time by making tooling adjustments quickly in-house
Improve first-time quality for new parts; tooling modification can be made in real time
Develop cost-saving ideas to reduce tooling cost, increase machine productivity and reduce per-piece price