Pointing and Shaving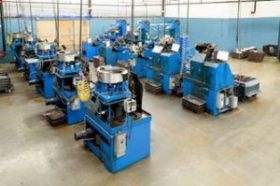 Pearson Fastener specializes in per-print pointing and grooving of screws, pins, bolts and other metal components. Highly equipped with metal shaving machines and unique expertise, we provide fastener distributors, fastener manufacturers and OEMs with the specialized shaving services they need.
7 Townsend #2 Shavers
3 Economy 3600 Shavers
Groove and point parts up to 5.25″ in length
Materials: bronze, steel, stainless steel and alloy steels
Shaver tooling built in-house
Shaving: a Cost-Effective Alternative to CNC
Shaving offers a cost-effective alternative to CNC machining. Often, Pearson only requires a .006″ tolerance for shaving to achieve costs below those of CNC. This allows cold forming of parts, which is typically less costly than screw machining. We can then groove and/or point parts on our shavers, instead of making parts complete with a CNC or screw machine. After the process is complete, Pearson can also separate out shavings and clean the parts before returning them to the customer.
Case Studies
---
Don't Scrap that Part! A Shaving Rework May Solve the Problem
Problem: A unique aspect of cold forming is that the raw material may not always flow quite the way you want it to. A fellow manufacturer called Pearson Fastener when it experienced this type of issue. Instead of scrapping the product, they asked if Pearson could perform a rework operation with our shaving equipment. The manufacturer had 50,000 pieces of a ½ x 1.88 hex head cap screw blank in which the material flared up on the end of the part. This caused the parts to roll thread improperly and become out of tolerance from a length perspective.
Solution: Using specialized shaving equipment, Pearson shaved a chamfer and cleaned up the flare. We also cleaned the end of the parts which brought them into length tolerance and provided a great transition area to roll the threads on the parts. For a very small rework cost, the manufacturer was able to salvage parts, avoid additional scrap and remanufacturing costs, and still meet its customer commitment on time. This example shows why it's worth considering Pearson's shaving capability to see if reworking a part is a viable option.
---
Quick Turnaround for Shaving is a Pearson Specialty
Problem: The need for quick turnaround seems more the norm than an occasional expectation when it comes to secondary parts processing. Pearson Fastener understands that making up time during secondary operations helps customers meet requirements for their end customers. One Pearson customer recently needed parts in half the normal lead time of 8 weeks to meet an unforeseen build-out schedule.
Solution: Pearson Fastener delivered completed parts in just 3 weeks to help fulfill this requirement due to our shaving operation's quick turnaround. We have set up our shaving process to deliver industry-leading production turnaround times. Pearson's process centers on:
Making shaving tooling in house.
Having multiple machines available to increase production output.
Technical expertise – Our staff have over 20 years' experience running shaving equipment, requiring minimal or no learning curve on new jobs, and can develop the proper fixturing for efficient processing.
Proper Advance Technical and Quality review during the quotation stage, which ensures upfront work is completed before even receiving an order.
---
Pearson Shaving Capabilities Reduce Part Breakage, Improve Efficiency
Problem: Metal parts with small diameters can break easily if they require deep grooves, depending on the process used. Another challenge is machining parts with multiple features (grooves, points and others) without driving up processing time and cost.
Solution: Customers rely on Pearson for our numerous manufacturing capabilities, but many customers find our shaving services especially valuable. Pearson has a unique combination of technical skills along with shavers equipped with variable speed drives. This lets us shave small-diameter parts that have deep grooves, without part breakage. We can also shave parts with multiple features. Pearson has shaved parts with 5 features in one pass on a single part from stainless steel.