Automotive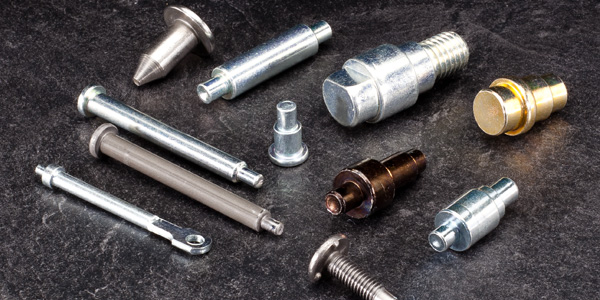 Pearson Fastener develops interior and exterior body assemblies to meet the stringent demands of global automotive manufacturers. Pearson Fastener is a supplier of high-quality custom fasteners to automotive manufacturers. We manufacture cold-formed components for seat assemblies and various underpinnings of cars and trucks.
Examples: hex heads, pins, rivets
"By achieving this level of certification, it shows Pearson's commitment as a word-class supplier by having a quality system in place that drives continuous improvement for our internal and external stake holders," said Larry Fey, Director of Sales at Pearson.
"It's especially important for our customers because one of our primary goals is to ensure a supplier's ability to satisfy its customers and continually improve," said Paul Chandler, Director of Operations. Pearson Fastener's quality system includes capabilities such as full Level 3 PPAP documentation, advanced tensile testing, Six Sigma Green Belt leadership, and cage code designation as a government contractor to support U.S. military troops.
Edward L. Maschmeier, Director, Certification for SRI Quality System Registrar, stated "Their certification shows their automotive customers worldwide that Pearson Fastener is committed to being recognized as a long term supplier of quality goods and services."
Case Studies
---
Pearson Achieves Special Quality Requirements for Tier 1 Automotive Customer
Problem: A manufacturer consulted Pearson Fastener about a part needing a Level 3 PPAP with special quality requirements dictated from a Tier 1 automotive end customer. Our customer wanted to confirm we had the quality and documentation capabilities to adhere to this requirement. This part also had to be delivered within four weeks to meet their end customers' needs.
The requirement was to perform individual gage R&R studies on two known critical dimensions on the print. The end automotive customer wanted reassurance that our ISO 9001-2008 certified quality system was robust enough to handle this work. Failure to do so on a timely basis would have put the order in jeopardy.
Pearson Fastener had to provide three main capabilities:
An operation that can produce quality product that is repeatable from part to part, thereby achieving desired PPM.
Gaging that verifies this repeatability that is in itself repeatable at 10 times greater than production.
The ability to document and prove that we have the gage R&R capabilities and can record and produce results in understandable software for customer approval.
Solution: Pearson exceeded expectations by performing all three phases flawlessly. Our product ran perfectly at a high quality level. Our measurements on multiple gages documented our process to be superior to AIAG [1] industry standards. Average % Contribution was well below the acceptable 10% level, and average Study Variance was far less than the acceptable 30%. Recording of this data was implemented and produced on our own automotive approved software, MiniTab17. Both the end customer and our immediate customer were completely satisfied with Pearson's robust quality system and ability to complete the rush order.
Note: All Pearson gages used to verify production of any sort have a gage R&R study documented for review at any time.